Kitchen Planner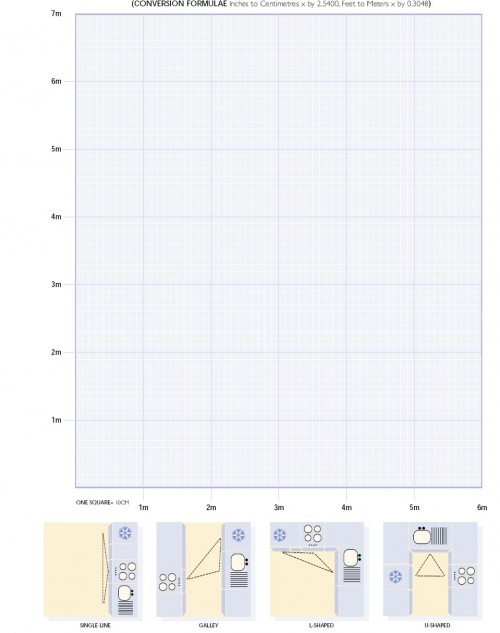 A kitchen well designed will be exactly how you want it to be, with the space available best utilised and a well designed kitchen will also save you hours of labour in the long run. As a kitchen is often the heart of a home, your time will be well spent designing your kitchen.
To ensure that your kitchen workspace is never cramped it is good practice to create a triangle between your sink, fridge and cooker as this will make for a much better working environment. You will be able to move freely between your kitchen appliances with the minimum of steps.
How to use this Kitchen Planner
Download Gee's Kitchen Planner.
Drawing an accurate picture of your existing kitchen on graph paper will give you a good base start. Remember to take exact measurements of your kitchen and transfer the details as a scaled plan on the grid provided. The ratio is easy to figure out -
one square = 10cm
.
Once you have sketched your newly designed kitchen onto the graph paper please email it to us on arnoldg@eircom.net and our designers will now be in a position to create your kitchen. Any queries of dimensions will be checked prior to fitting by our kitchen fitter(s). You can of course avail of your computer aided design (CAD) facility - an appointment will be required, so please remember to make a convenient appointment.
Check for the following
Measure the length and width of the kitchen.

Take the ceiling height at several different points.

Measure the size, dimensions and location of opening of all doors, including frame and architraves.

Take a note of all your existing kitchen appliance dimensions.
Gee's Kitchens of Kildare design and install quality kitchens at very affordable prices. We have a kitchen to suit every taste and requirement and we will build your kitchen to your exact requirements. If you can imagine it we can make it.
Do's
A sink positioned by a window will give you a better view.

Electrical sockets should be positioned a minimum distance of 150mm (6 inches) above worktops.

Extractors and / or cupboards should be positioned a minimum distance of 750mm above hobs.

To minimise plumbing work, locate washing machines and dishwashers close to sink area.

To maximise your working area keep tall units to the end of worktop runs.

Allow at least 300mm of clear space on each side of your hob to allow for protruding panhandles.

Position extractor fans on outside walls.

Allow adequate space around freestanding appliances for easy access.
Don'ts
Locate your cooker or hob beside an inward opening door or window where curtains could catch fire or where it is dangerous to reach over to the window.

Plan a wall unit above a hob without an extractor fan.

Plan appliances in a corner.

Plan a hob next to a tall unit corner wall or at the end of a run.

Plan a tall unit next to a sink due to moisture.

Plan an inset sink near worktop joints.

Box in boilers or other gas appliances as these require airflow to operate safely and properly.

Put a cooker hob under or near electrical sockets.

Position cookers next to fridge or freezers.

Block up existing air vents if there are gas appliances in the kitchen.
Gee's Kitchens, Wardrobes & Flooring
The Gables, Farmhill, Athy, Co. Kildare
Email:
arnoldg@eircom.net
T:

059 8631509 |

M:

086 1224942